Military &
Army
Tents
Shelter Tents
Disaster Relief
Tents
Medical
Tents
Hunting
Tents
Event
Tents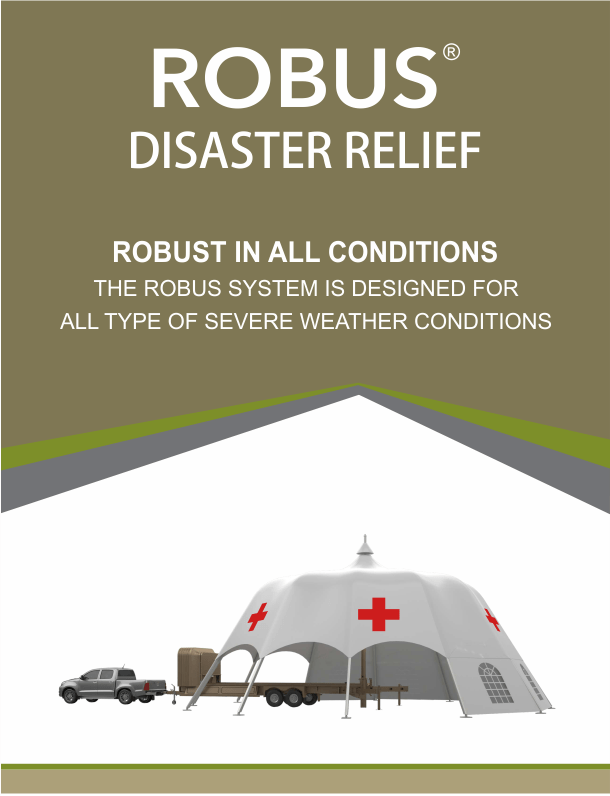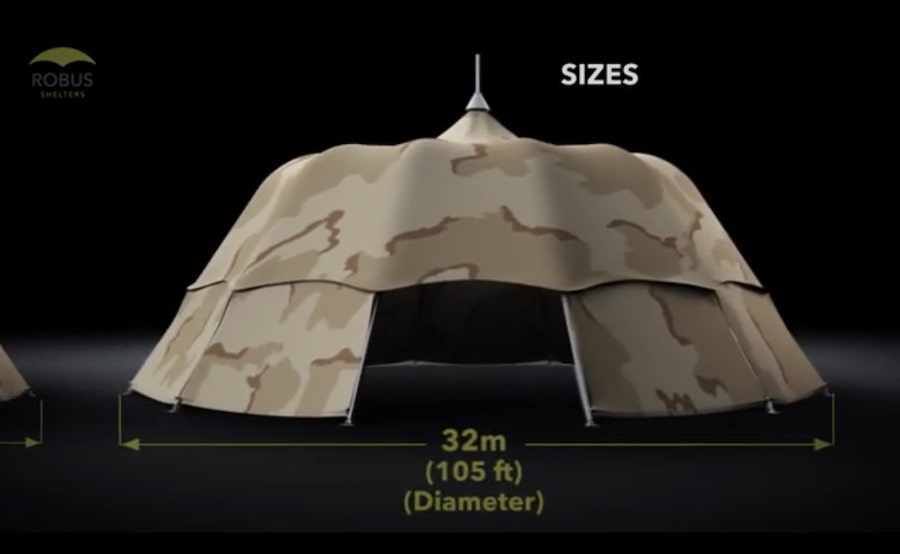 Cutting-edge engineering and patented tents solutions
Designs and manufactures re-deployable shelters using proprietary mechanical technologies, with proven structural design expertise.
Products with speed mobility and fast redeployment of systems that have been designed and patented after extensive research and development.
It is already catering to many global clients, offering its bespoke products that are ready for any type of environment.
Its offerings are divided into various categories, including commercials including the events industry, medical, hunting, military and defence.
For almost 20 years Robus Shelters Tents. have supplied Governments Organizations and Companies with solutions for shelters that are fully operational in a variety of sizes 10-12-16-20 metres and larger by special order all set up in under just 10 minutes. Robus is the only shelter system on the planet due to patents. Robus incorporates powerful hydraulics and non-rusting aluminium with LED lighting and electrical sockets all powered by its own on board generator or mains supply.
Further details on request. Robus can be deployed to Luxury Resorts, Palaces, Military locations, Hotels, Medical Centres, for a full inspection and demonstration.
Countries We Deliver To
– UAE United Arab Emirates
– KSA Riyadh Saudi Arabia
– Jordan
– Qatar
– Oman
– Kuwait
– Egypt
– Tanzania
– Nigeria
– Ghana
– Gabon
– Lebanon
– Bahrain
– Ethiopia
– Kazakhstan
– Pakistan
– Indonesia
– Tajikistan
– Malaysia
– Maldives
- USA, UK, Canada, Austria, Belgium, Bulgaria, Croatia, Republic of Cyprus, Czech Republic, Denmark, Estonia, Finland, France, Germany, Greece, Hungary, Ireland, Italy, Latvia, Lithuania, Luxembourg, Malta, Netherlands, Poland, Portugal, Romania, Slovakia, Slovenia, Spain and Sweden.England, Scotland, Wales and Northern Ireland.Bolivia, Brazil, Chile, Colombia, Costa Rica, Ecuador, El Salvador, Guatemala, Honduras, Mexico, Panama, Paraguay, Peru, the Dominican Republic and Uruguay.
-Djibouti Eastern Africa
-Seychelles Eastern Africa
-DR Congo Middle Africa
-Comoros Eastern Africa
-Togo Western Africa
-Sierra Leone Western Africa
-Tanzania Eastern Africa
-South Africa Southern Africa
-Cabo Verde Western Africa
-Congo Middle Africa
-Kenya Eastern Africa
-Liberia Western Africa
-Central African Republic Middle Africa
-Mauritania Western Africa
-Uganda Eastern Africa
-Algeria Northern Africa
-Sudan Northern Africa
-Morocco Northern Africa
-Eritrea Eastern Africa
-Angola Middle Africa
-Mozambique Eastern Africa
-Ghana Western Africa
-Madagascar Eastern Africa
-Cameroon Middle Africa
-Côte d'Ivoire Western Africa
-Namibia Southern Africa
-Niger Western Africa
-Gambia Western Africa
-Botswana Southern Africa
-Gabon Middle Africa
-Sao Tome & Principe Middle Africa
-Lesotho Southern Africa
-Burkina Western Africa
-Nigeria Western Africa
-Mali Western Africa
-Guinea-Bissau Western Africa
-Malawi Eastern Africa
-Zambia Eastern Africa
-Chad Middle Africa
-Zimbabwe Eastern Africa
-Guinea Western Africa
-Rwanda Eastern Africa
-Mauritius Eastern Africa
-Benin Western Africa
-Burundi Eastern Africa
-Tunisia Northern Africa
-Eswatini Southern Africa
-Ethiopia Eastern Africa
-South Sudan Eastern Africa